Palmistry by Myrna Lou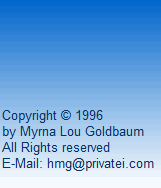 Business Company
Everything that can be seen in a hand can be analyzed. Hands are the servants of the human system; so all things which affect the system affect them too. Hands are the immediate servant of the brain. It has been long known and recognized that the human hand can express as much by gesture and position as the lips can by speech. Hands ask, invoke, promise, dismiss, threaten, embrace, express fear, pity, joy, grief, doubts and they also mark time.
HANDS ARE THE MIRRORS OF THE SOUL
In palmistry one learns to harness the unlimited powers of insight, creativity and spirituality. It allows changing mindset to make emotions, positive and negative, work.
Palmistry can answer all "your" individual questions by unlocking the secrets.
Discover your hidden talents and abilities.
YOUR TASK IS TO FIND OUT "WHO YOU ARE" AND BE THAT PERSON
By participating in a palm reading session you allow palmistry to open the door to excitement, romance and adventure. Palmistry revives old, forgotten memories, worth a thousand words.
Palmistry can heal the hurt and awaken the spirit.
Palmistry helps you take a step towards personal growth and renewal.
Palmistry opens self-understanding from within.
Palmistry generates new ideas. It overcomes unproductive thinking and helps one lose old habits; allows innovative thinking.
Palmistry can help you recognize mind traps and avoid them; it helps to overcome fear of change.
Palmistry lets you discover opportunities you never knew existed.


Palmistry Basics